Emigrate to Dubai.
Tax exemption, luxury and a multicultural life make Dubai an attractive place to live. From visa to housing, we clarify all questions for your start in the desert metropolis.

Why is the emirate of Dubai so popular for expatriates?
With more than 200 nationalities, Dubai is the current hotspot for emigrants. Not only 0% taxes, but also other advantages attract more and more entrepreneurs, investors and professionals to the emirate.
Strong economy
Liberal economic policies and tourism ensure continuous economic growth.
Tax exempt income
They do not pay taxes or customs duties in the UAE free zones.
High standard of living
Dubai is one of the most modern cities in the world and offers luxurious residential facilities.
Warm climate
Thanks to its proximity to the equator, Dubai enjoys summer all year round.
Multicultural life
More than 200 nationalities live in the modern city on the Persian Gulf.
Education and health
"Healthcare City" is a dedicated district in Dubai for medicine and research.
Transport connections
State-of-the-art public transportation and very well-developed highways connect the city.
Many leisure activities
Camel safaris, water parks and exceptional museums are just a few examples of numerous leisure activities.
Contact us today!
We advise in English and German.



Please fill out the form and we will get back to you as soon as possible to schedule a free initial consultation.
The Guide to Preparing for Life in the United Arab Emirates (UAE).
Before the adventure of emigrating to Dubai starts, we have summarized all the useful information for you.
Language
The official language in the UAE is Arabic. However, due to the high percentage of foreigners (over 85%), you can usually communicate very well with English. Nevertheless, it is appreciated by the locals if you know a few words of Arabic. Especially if you want to go shopping at the market, a basic vocabulary is an advantage.
The best way to start a conversation with a native Arabic speaker is with a friendly "Kaif Halak" ("How are you?").
If you enter a store and say "Marhaba" ("Hello") in Arabic and say goodbye with "Maasalaamah" ("Goodbye", "Go in peace"), you will make a good impression.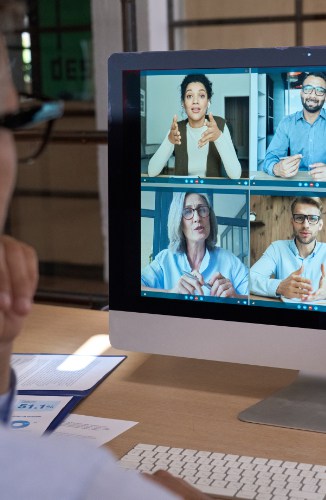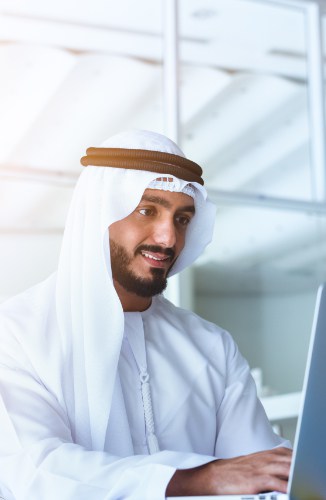 Frequently asked questions.
Arabic is the official language in 26 countries: Algeria, Bahrain, Chad, Comoros, Djibouti, Egypt, Eritrea, Iraq, Jordan, Kuwait, Lebanon, Libya, Mauritania, Morocco, Oman, Palestine, Qatar, Saudi Arabia, Somalia, Sudan, Syria, Tanzania, Tunisia, United Arab Emirates, Western Sahara, Yemen.
Men are greeted with a handshake and women with a polite nod. The left hand is considered unclean, so you should hand documents or objects with your right hand.
Especially in business negotiations, it is important to know that small talk in Arab culture is much longer than in other cultures. People ask about their family, their children and their hobbies before they get down to business.
No. The business language in Dubai is English.
The traffic signs are always in Arabic and Latin script, so you will find your way around easily.
Safety.
The United Arab Emirates is one of the safest countries in the world. There is a very low crime rate in Dubai. Public places are monitored day and night.
Caution is advised in traditional markets and large crowds, as in any other place. Purses and handbags are best carried well locked and close to the body. Penalties in Dubai are harsh and this does not exclude tourists. Drinking alcohol in public or even drunkenness is punishable. Homosexuality is considered a criminal offense in Dubai.
Consuming food or smoking in public places during Ramadan is prohibited.
These are only a few examples - upon arrival, travelers receive a brochure with the rules of conduct in Dubai. The political situation in Dubai is stable. Nevertheless, it should be noted that the UAE is an active member of the anti-IS coalition. There is no acute terrorist threat at the moment. However, the IS has been threatening all anti-IS members with revenge for years.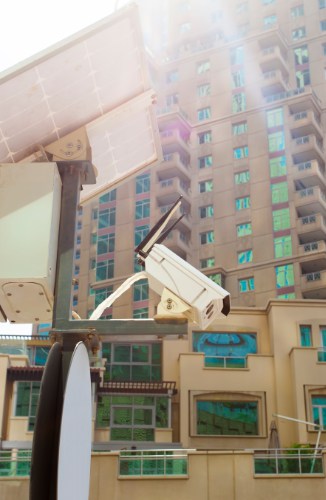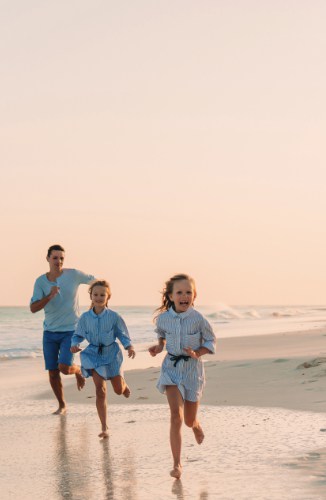 Frequently asked questions.
Security in Dubai has also not been affected by the Ukraine war.
With regard to coronavirus, Dubai is not currently (as of February 2023) a risk area.
Anyone who expresses criticism of the government is severely punished. This also applies to tourists. Social media are monitored.
Road traffic can get hectic at times, especially in the city center. Those who feel unsafe can take a cab for AED 12 per kilometer.
Free time.
Whether sporty with jet skis, adventurous with a jeep through the desert or fun for the whole family in one of the numerous water parks - it never gets boring in Dubai!

Even skiing is possible in the desert metropolis, namely in the Mall of the Emirates. The Burj Khalifa is not only the landmark of Dubai, but also attracts thousands of visitors every day. It is advisable to reserve tickets online in advance to avoid waiting times. The visit can then also be combined with an extensive shopping tour, as the largest shopping mall is located in the tower.

In addition to all the attractions in the city, nature lovers also get their money's worth. In the Hajar Mountains there are many hiking trails that lead past cliffs, sandbanks and oases. For families with children, the Dubai Desert Conservation Reserve with wild animals in the wild is a great destination. Gazelles, leopards and oryx can be seen on a safari tour.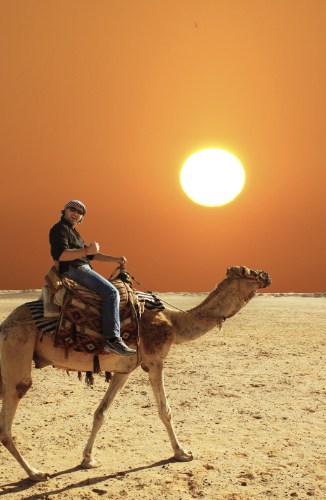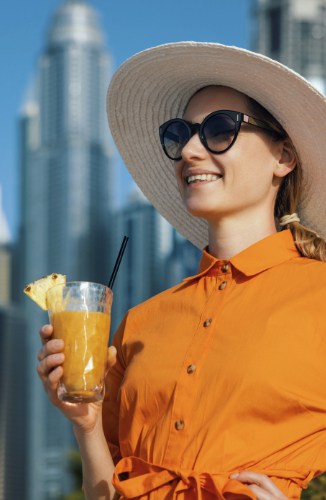 Frequently asked questions.
Between November and March is winter in Dubai and the temperatures range between 25 and 30 degrees. In summer it can get up to 45 degrees and it is better to spend the midday hours indoors.
In Dubai, the laws of Islam apply. While tourists do not have to cover themselves completely, the locals pay more attention to compliance with the rules of dress. Nevertheless, knees and shoulders must be covered. Hot pants and T-shirts without arms are taboo.
The cost of entrance fees and restaurants is comparable to Central Europe and the USA. For example, admission to a water park for adults costs AED 299.
Cost of living.
The average salary in Dubai in 2023 is AED 313,000 per year.
Accordingly, the cost of living is also relatively high for the Middle East. A 3-bedroom apartment costs around AED 10,000 in the city center and around AED 8,000 outside. Additional costs for electricity and garbage are about 800 AED per month. You definitely do not need heating in Dubai. For food you should expect 1200 - 2000 AED per month for one person, depending on whether you buy at the market or at the supermarket. Transportation is comparatively cheap with gasoline at about AED 3.20 per liter and AED 8.50 for a one-way metro ticket. Restaurant prices are similar to those in Central Europe, except for alcohol.
So single people can get by well on about AED 14,000 per month in a nice neighborhood. For families with children, expenses can rise to AED 20,000 per month.
You can also read detailed listings of average spending in USD here: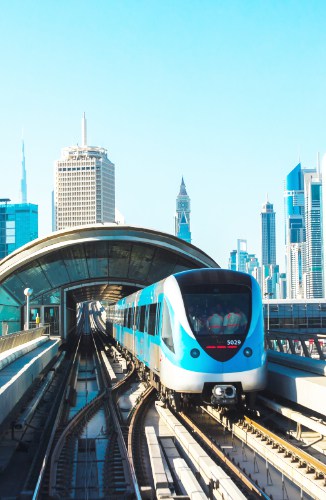 Taxes.
The same tax laws apply to foreigners in Dubai as to locals. This means that net is equal to gross, which makes a move to Dubai attractive for many expatriates. In principle, the UAE does not levy taxes. Exceptions are the value added tax of 5% and the so-called "Housing Fee", a kind of rent tax.
No taxes are levied on either private income or corporate income. Capital gains, dividends and proceeds from sales are also completely tax-free. Those who want to enjoy their retirement in Dubai can rejoice. Pension income is not taxed.
If you set up a business in one of the free zones, "tax protection" takes effect. This means that you have a guaranteed tax rate of 0% for 50 years.
More information about taxes in Dubai or the UAE can be found here: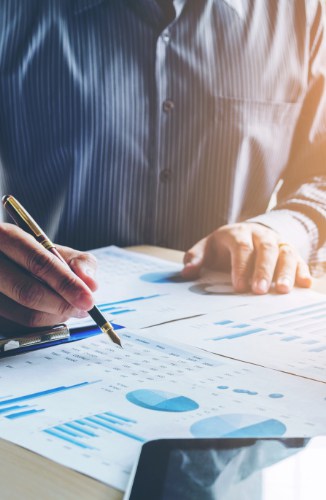 Medical care.
The UAE invests heavily in research and its healthcare system. Medical care is excellent and treatment in public hospitals is even free for locals. Resident foreigners must pay for their own medical expenses. Either directly on site as a self-payer or in the form of a private health insurance. Insurances start from AED 400.00 per month. Dubai has its own district just for health and research: "Healthcare City". With over 350 clinics and medical centers, you will receive excellent care.
If you are dependent on medication in your home country, find out if you are allowed to bring it into Dubai. Due to the strict anti-drug law, some medications may not be brought in at all. For all other medicines: Import only with prescription!
There are numerous pharmacies and opticians on site. These are partly cheaper than in most industrialized countries.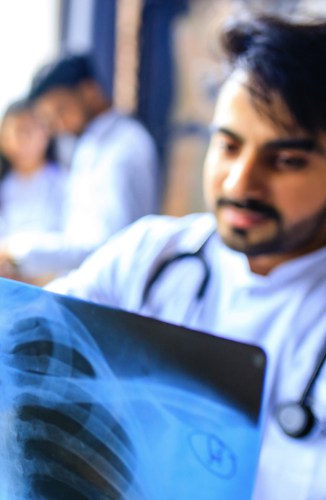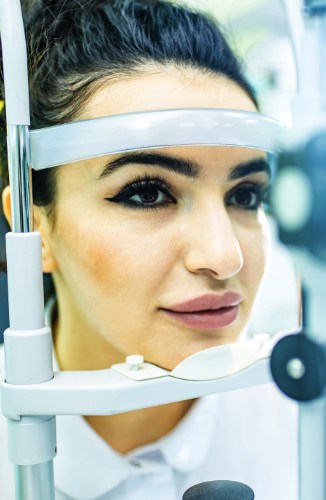 Frequently asked questions.
As of November 2022, no PCR test or proof of vaccination is required to enter Dubai.
Birth control pills can be imported only with a prescription or a doctor's certificate.
On average, a 30-minute examination with a general practitioner costs 4000 AED.
Housing.
Housing costs are the largest monthly expense in Dubai. A 2-bedroom apartment is around AED 50,000 and a 3-bedroom apartment is around AED 60,000 rent per month. Downtown, you can expect to pay up to AED 40,000 more, depending on amenities. A security deposit of 5% of the rental price is required upon signing the lease. The rental price already includes the use of the numerous leisure facilities in the residential area such as pool, tennis courts or gym. What is not included, however, are the utilities. It is worth asking at the viewing if the costs for the air conditioning are already included.
Other utilities are electricity, water, the Housing Fee of 5% and the Sewerage Fee AED 0.5 fils per gallon for the sewage connection. For two people, the utilities are about AED 600 per month, in the city center they can be a bit higher. If the lease is renewed, a fee of about 1000 AED has to be paid, this is stated in the lease.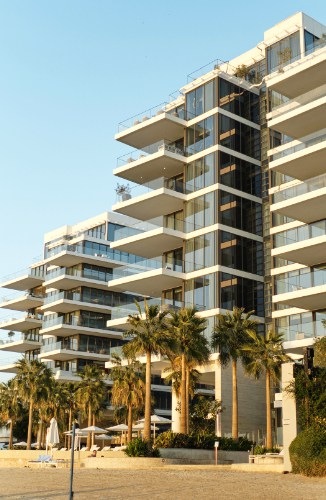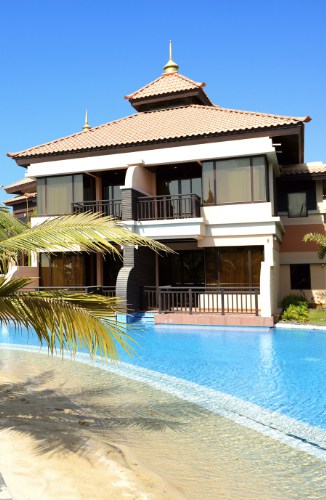 Frequently asked questions.
No. In order to rent an apartment, you will need an Emirates ID, which you will receive with your Resident Visa.
Up to a certain price, tenants have to bear the costs of repairs. This is also stipulated in the rental contract, usually it is estimated at 1000 AED.
Downtown, Dubai Marina, Emirate Hills, Business Bay and Palm Jumeirah are some examples of pleasant, sometimes luxurious residential areas.
The best thing to do is to first rent an Airbnb in a neighborhood that appeals to you to see if the area appeals to you. Locally, there are many real estate agencies that will help you find an apartment or house.
With freehold, you are the absolute owner of the property, while with leasehold, ownership is limited to a maximum of 99 years.
Buying a property as a foreigner is not possible in all parts of the city, but more and more sectors are coming up where you can buy a house or an apartment. The best way to find out about this is to ask a salesperson who knows the area.
As a woman in Dubai.
The rules of Islam apply to life in the UAE. The rights of women and children are partially restricted. However, if you follow some rules, you can emigrate to Dubai even as a woman alone.
In no case should you dress too freely. Bathing in a bikini is no problem. However, it is advisable to pack clothes to cover up for the beach. In the metro there are extra areas for women and children. There are also women's cabs, which are driven exclusively by women and men are allowed only if accompanied by a woman. In general, women and men are often treated differently. In Islam, it is considered a form of respect not to greet or pay attention to a woman.
Those who are not married are not allowed to live together with their partner in the same apartment, and the exchange of affection should be completely avoided in public. Under labor law, women and men are equal in the UAE. They are also entitled to start businesses, purchase real estate or obtain a loan.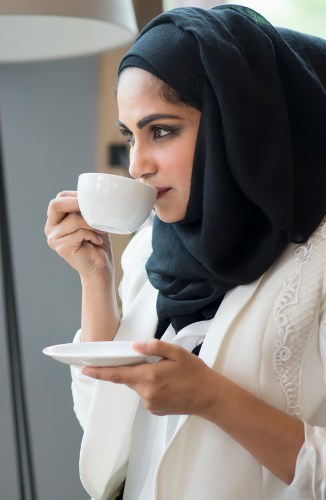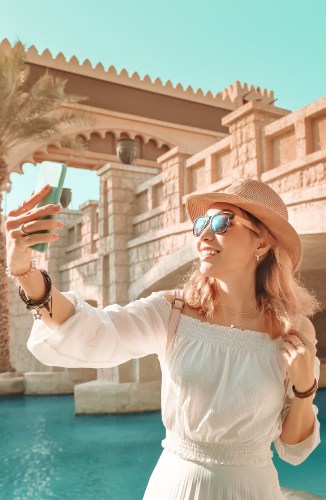 Frequently asked questions.
Due to the constant presence of security forces, the security situation for women in Dubai is very good.
No. In Dubai, different laws apply to men and women in some cases. For example, women need the consent of a male guardian for a divorce or marriage.
If you enter one of the 40 free trade zones, you do not need a sponsor for your tourist visa or to start a business.
Visa.
When issuing visas, there is the possibility of free entry for citizens of more than 50 countries. When entering Dubai, only the visa fee is payable. It is not necessary to apply for the visa before departure. This regulation applies to all EU countries (60 days visa) and for example also to Russia, Canada, the USA and Australia (30 days visa).
There are several ways to obtain a visa to enter the UAE:
Transit visa (48-96 hours)
Tourist visa
Business visa
Investor visa
Work visa
Visitor visa
Please note that a passport valid for at least 6 months is required for entry. In case of setting up a company in Dubai or purchasing a property, a temporary visa can be converted into a residence permit on the spot. You will then also receive your Emirates ID and the possibility to open a bank account.
Learn more details and information about the different visas: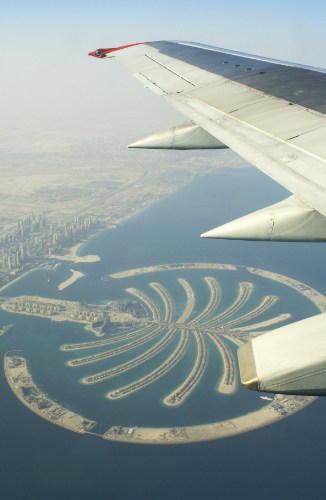 Work.
In addition to investing or setting up a company in Dubai, employment is a promising way to gain a foothold in Dubai. Especially in the scientific field, specialists are increasingly sought. There are also vacancies in IT, marketing, tourism or finance.

And what does working life in Dubai look like?

Like entrepreneurs, employees do not pay income tax. There is no statutory pension insurance. The weekly working hours are between 40 and 48 hours. If you go to the office on a Friday, you won't meet anyone. This is because Muslims go to mosque on Fridays and there is no work. In many workplaces, work is done on Saturdays or Sundays. People often use messengers like WhatsApp or social media to communicate at work. So, you should have no problem sharing your contact with your colleagues.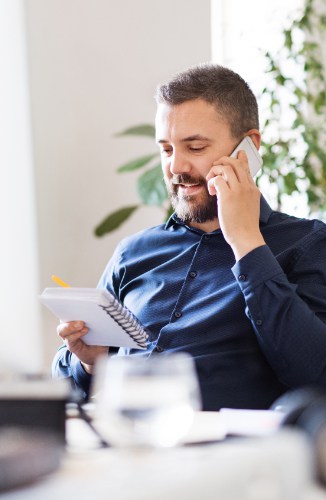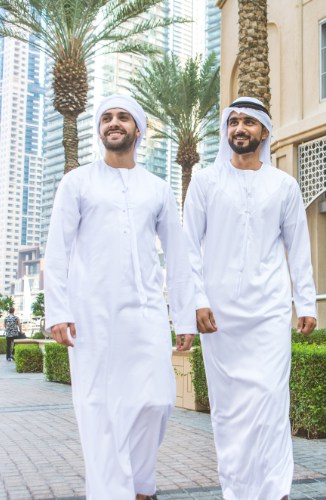 Frequently asked questions.
You are not allowed to work on the tourist visa under any circumstances. Once you have a signed employment contract, you can apply for your work visa.
In Dubai, 20 days of vacation are common, but these are negotiable.
Yes. This is usually private health insurance - find out at the beginning which benefits your KV covers.
The business language in Dubai is English. Out of politeness, it is still recommended to know a few words of Arabic.
Your residence permit expires as soon as you are no longer employed. However, a waiting period of 28 days is often granted.
The amenities of having an employer in Dubai also include additional benefits such as housing allowance or a company car, which are provided to employees in many cases.
Education.
The emirate of Dubai has a comparatively high standard of education. There are private and public schools, while the latter are hardly accessible to foreigners. Most of the private schools have English as the language of instruction. However, there are also Japanese, French, German and Indian schools - to name just a few examples - that teach children not only the language but also the culture of the respective country.
The university system is strongly oriented toward the Anglo-American system and has been steadily expanded and staffed with excellent specialists since the 1990s. International universities such as New York University and Sorbonne University offer degrees that are also recognized in the university's country of origin. For example, in the USA and France. International higher education is privatized. For a bachelor's degree program, one must expect fees of AED 40,000 - 60,000 and for master's programs AED 80,000 - 130,000. For more information on the higher education system, please visit the DAAD.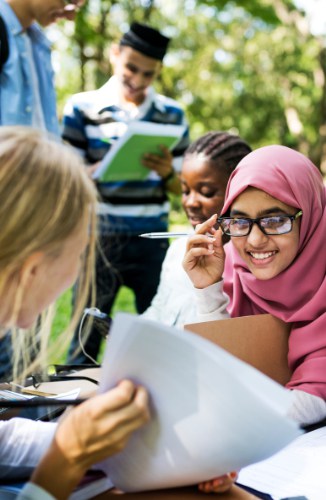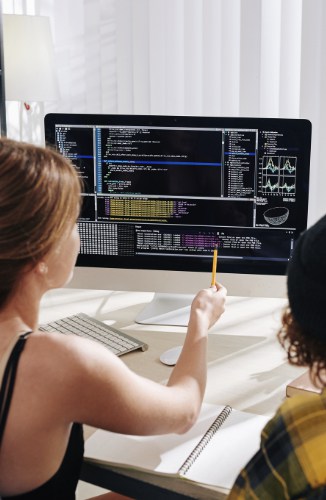 Frequently asked questions.
In the UAE, all children from 6 to 18 years old must attend school.
12 years, at some private schools also 13 years.
For locals there are state kindergartens and schools, which are free of charge. Foreigners can use these only in exceptional cases.
Elementary schools cost between AED 10,000 and AED 20,000 per year, while you can expect to pay AED 30,000 to AED 70,000 for secondary schools. Prices vary greatly here, depending on the educational institution.
At state schools, yes. Most private schools teach boys and girls together.
Yes, there are merit scholarships to apply for.