Cost of living in Dubai.
Dubai attracts many expats and expatriates every year to enjoy its rich cultural offerings, exciting nightlife and career opportunities. This article will provide a deeper insight into the financial implications of living in Dubai for expats and expatriates.

Living and working in Dubai.
The city of superlatives not only offers breathtaking skylines and luxurious lifestyles to live and work, but also numerous opportunities for careers and work.
People from all over the world work in Dubai and benefit from the numerous business opportunities the city has to offer.
One of the greatest benefits of working and living in Dubai is the strong economic growth. Dubai has become a major global business center in recent years, offering a wide range of career opportunities in areas such as commerce, finance, retail and tourism. Many international companies have opened offices in Dubai, which means there are plenty of jobs here for professionals in a variety of industries.
Another advantage of living in Dubai is the high quality of life. The city offers a wide range of leisure options, from luxurious shopping malls and a variety of restaurants and cafes to stunning beaches and theme parks. Moreover, Dubai is a safe and tolerant city where people from all over the world can live together peacefully.
Nevertheless, when emigrating, one should be well prepared for the upcoming challenge. It is advisable to apply for the appropriate visa and learn about the local business culture and labor laws. It is also necessary to find a suitable apartment and take out health insurance.
Overall, the city offers a unique opportunity to combine career and life. With its strong economy, high quality of life and diverse recreational opportunities, Dubai is a place where you can work and enjoy life to the fullest.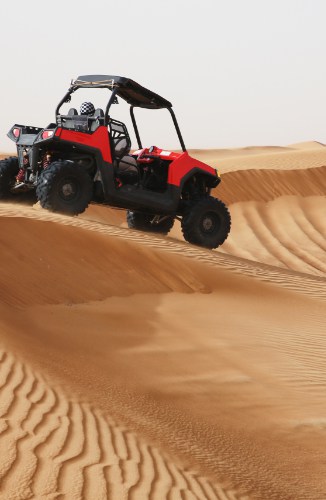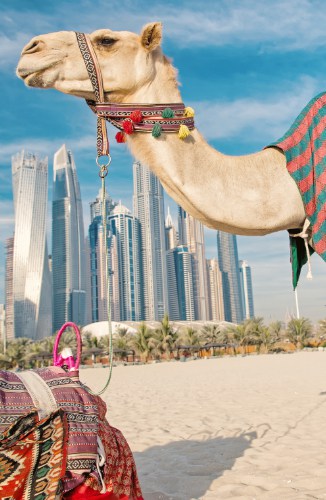 The economic development of Dubai and the UAE.
Economic life in Dubai is characterized by progress and dynamism. A metropolis that is known for its growth and has a lot to offer for international founders and entrepreneurs.

The city has developed into a major business location over the past decades. Known for its excellent business opportunities and rich cultural influences.

A major center of commerce and finance, the metropolis of over a million people offers a variety of economic opportunities spanning a wide range of industries. These include retail, construction, real estate, tourism, energy and shipping.

Dubai's economic growth is due to government support and encouragement of investment. The government has taken a number of measures to diversify the economy and attract inward investment. Furthermore, special attention is also given to the promotion of small and medium enterprises. Another factor contributing to economic growth is the excellent infrastructure in Dubai. The city has modern roads, airports, seaports and a well-developed network of telecommunications and energy supply infrastructure.

In addition, Dubai is a popular destination for tourists from around the world, and this is leading to significant growth in the tourism sector. The government has launched a variety of projects to promote tourism, including the construction of luxury hotels, theme parks and shopping malls.

The economy offers many opportunities for entrepreneurs looking for new opportunities. It is an important and diverse location for businesses that is constantly evolving.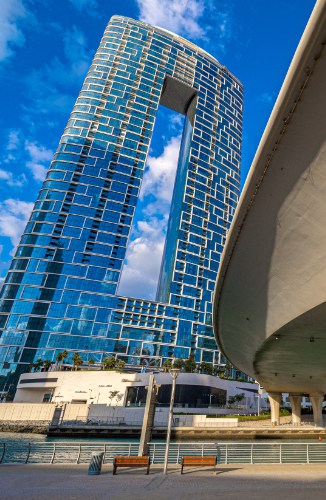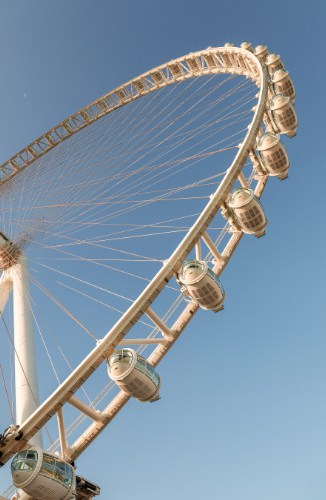 Cost overview and examples.
Here you will find real examples of everyday costs. The data is based on research in 2023 and takes into account average values, some of which may vary locally.
Cost table: Housing.
Living in Dubai can be expensive. The housing market in particular has seen a sharp rise in costs. Renting an apartment, condo, house or gated residence can account for a significant portion of monthly expenses.
The cost of rental properties varies greatly depending on location and amenities. For example, a studio apartment in a prime location such as Downtown Dubai or Palm Jumeirah can cost between AED 7,000 and AED 15,000 per month. In contrast, a similar property in a less central location will only cost around AED 4,000 to AED 6,000.
For those who prefer more space, a one bedroom apartment can cost between AED 7,000 and AED 20,000 per month, while a two bedroom apartment can cost between AED 10,000 and AED 30,000. For families or those looking for more luxury, a villa or garden gate residence can cost between AED 40,000 and AED 100,000 per month, depending on size, location and amenities.
It is important to remember that rental properties in Dubai usually do not include utilities. This means that tenants must pay for their own electricity, water, and internet, which can add up quickly. Likewise, some landlords require a security deposit, which can amount to several months' rent, so it's important to plan accordingly.
| Description | Ø Costs |
| --- | --- |
| Apartment (1 bedroom) in the city center | 1,877.51 $ |
| Apartment (1 bedroom) Outside the center | 1,075.57 $ |
| Apartment (3 bedrooms) in the city center | 3,346.86 $ |
| Apartment (3 bedrooms) Outside the center | 2,134.38 $ |
| Price per square meter for the purchase of an apartment in the city center | 4,028.50 $ |
| Price per square meter for the purchase of an apartment outside the center | 2,396.33 $ |
| Basic (electricity, heating, cooling, water, garbage) for 85m2 apartment | 190.21 $ |
| Internet (60 Mbps or more, unlimited data, cable/ADSL) | 97.97 $ |
Cost table: Daily requirement.
Dubai may be known for its luxurious lifestyle, but daily expenses can still add up quickly. Food and personal care are two important daily needs that can have a significant impact on your budget.
Simple meals at local restaurants can cost between AED 20 and AED 50 (USD 5 to USD 13), while a meal at an upscale restaurant can easily cost hundreds of AED. Personal care products such as toiletries and cosmetics can also be quite expensive, especially if you choose high-end brands. It is important to plan your budget carefully and set aside money for these daily necessities.
Remember that prices can vary greatly depending on where you shop. So it's always a good idea to compare prices and look for deals. With a little planning and smart shopping, you can enjoy all that Dubai has to offer without breaking the bank.
| Description | Ø Costs |
| --- | --- |
| Milk (normal), (1 liter) | 1.85 $ |
| Loaf of fresh white bread (500 g) | 1.49 $ |
| Rice (white), (1kg) | 2.03 $ |
| Eggs (normal) (12) | 3.26 $ |
| Chicken fillets (1kg) | 8.42 $ |
| Water (1.5 liter bottle) | 0.60 $ |
| Imported beer (0.33 liter bottle) | 6.46 $ |
| Cigarettes 20 pack (Marlboro) | 5.99 $ |
| Tomato (1kg) | 1.64 $ |
| Potato (1kg) | 1.11 $ |
Cost table: Free time.
Dubai is known for its many recreational activities and popular tourist spots, but it is important to budget for these experiences.

Activities such as desert safaris, dune rides and hot air balloon rides can cost between AED 200 and AED 500 ($54 to $136 USD) per person. Visiting popular tourist attractions such as the Burj Khalifa, the world's tallest building, or the Dubai Fountain can also add up quickly. A single ticket to the Burj Khalifa can cost up to AED 125 (USD 34). If you plan to visit multiple attractions, it's worth buying a tourist pass, which offers discounts for multiple experiences.

Keep in mind that leisure activities and tourist attractions can be expensive. But they are an important part of the Dubai experience. They are worth the investment!
| Description | Ø Costs |
| --- | --- |
| Fitness Club, monthly fee for 1 adult | 73.26 $ |
| Tennis court rental (1 hour on weekends) | 36.61 $ |
| Cinema, International release, 1 place | 12.80 $ |
| Ski Dubai (indoor ski slope) | ab 32,67 $ |
| Aquaventure Day Pass for Adults | 81,40 $ |
| Desert Quad Bike Safari, Sand Surf, & BBQ | 90 $ |
Cost table: Education and health.
Healthcare in Dubai is top-notch, and there are a number of medical facilities to suit a wide range of needs and budgets. From private clinics to public hospitals, Dubai offers quality medical services. However, it should be noted that the cost of medical care can be quite high, predominantly for foreigners who do not receive the same subsidies as locals. Therefore, many opt for private health insurance to cover medical costs.

Education is another area where expenses can add up quickly in Dubai. There are a number of excellent international schools in the city, but tuition can range from AED 30,000 to AED 80,000 per year. Further, many expats choose to send their children to boarding schools, which can significantly increase the cost of education. In summary, while the city can be quite expensive, it is important to remember that in return it offers top-notch services in areas such as health and education. If you plan your budget accordingly, you can enjoy all that Dubai has to offer while keeping your expenses under control.
| Description | Ø Costs |
| --- | --- |
| Preschool (or kindergarten), full day, private, monthly for 1 child | 751.97 $ |
| International elementary school, annually for 1 child | 11,504.12 $ |
| Short visit to the private doctor (15 minutes) | 74,60 $ |
| Basic health insurance | ab 2.722 $ annual |
Contact us today!
We advise in English and German.



Please fill out the form and we will get back to you as soon as possible to schedule a free initial consultation.
Frequently asked questions.
The monthly cost of living in Dubai varies depending on lifestyle and income. However, on average, you need at least AED 5,000 (about €1,350) per month to live comfortably. This includes costs for housing, food, clothing, transportation and recreational activities.

However, those who wish to live in a luxurious area such as the Marina or Jumeirah districts must expect higher costs. Here, an apartment can quickly cost several thousand dirhams a month. On the other hand, those who live in a simpler neighborhood such as Deira or Al Qusais can spend considerably less.
Many people are attracted to the idea of moving to Dubai for a better life, but it is important to understand that the cost of living in Dubai is higher compared to Germany.

In general, it is important to note that the metropolis is also a tax haven where no income or corporate taxes are levied. However, a value added tax is payable. This means that your salary may be higher than in Germany, but you will also have to pay more for things like housing, food and leisure activities.

Apartments in Dubai are much more expensive compared to Germany, especially in desirable areas like the city center or the beaches. A simple apartment in a good neighborhood can cost several thousand euros a month, while a villa or luxury apartment can quickly reach the price of several hundred thousand euros.

Food is also more expensive than in Germany, especially when people eat in restaurants. However, it is possible to eat cheaper by cooking yourself or eating in one of the many cheap fast food chains.
Dubai is one of the world's fastest growing cities and has experienced tremendous cost growth in recent years. The cost of housing, dining and leisure activities have all increased sharply in Dubai. However, while the cost of housing has increased in recent years, so have the prices of food and leisure activities.

One of the main factors behind the cost trend is the city's rapid growth rate. Dubai's population has increased significantly in recent years, which has led to a demand for housing and services. This demand has led to an increase in the price of housing, food, and recreational activities.
Dubai offers a wide range of job opportunities, from office jobs to skilled trades. However, the average wages in Dubai depend very much on the industry and the level of education of the employees. In general, it can be said that wages are higher than in many other countries in the region.

An expert in an office job can expect a monthly salary of about AED 10,000 to AED 20,000 (about 2,700 to 5,400 euros), while craftsmen can expect an average salary of AED 5,000 to AED 8,000 (about 1,350 to 2,180 euros). Managers and executives can earn a salary of AED 20,000 to 50,000 (about 5,400 to 13,500 euros) or more. However, it is important to note that the cost of living is quite high. This includes rent, food and leisure activities. Nevertheless, a higher salary in Dubai can allow workers to enjoy a higher standard of living, as they have access to a variety of leisure and shopping options.